Sales Letters Software | Sale Letter Secrets Revealed
Hi,
We've never met.
But we have something in common.
You have a sales letter or you're thinking about writing one.  I've been selling online with sales letters since before the WWW (back on AOL).  I've sold millions online so I do know a thing or two about what does and doesn't work.
Here are few steps for you to follow:
1.  Your hook is all important
I learned copywriting originally from Tested Advertising Methods by John Caples.  Most guys and gals who are old school learned it from there also.
Caples taught that your HEADLINE was the key to the ad.  It's the ad for the ad.  But the newer thinking epitomized by Michael Masterson and my friend Jason Fladlien is that the HOOK of your ad is ALL important.
Masterson calls it the "Big Idea."
Fladlien calls it a hook.
The thing it MUST do is hook the reader's attention with something dramatic, compelling or intriguing.  For example, for my Sales Letters Software I once used a shocking USP, or unique selling proposition.
I said that if you wrote a letter using my software, your products would sell or I'd send a picture of me kissing the elephant's behind.  It showed the picture of the elephant's tail end.
Then we followed that up with a number of other riffs.  Here's one: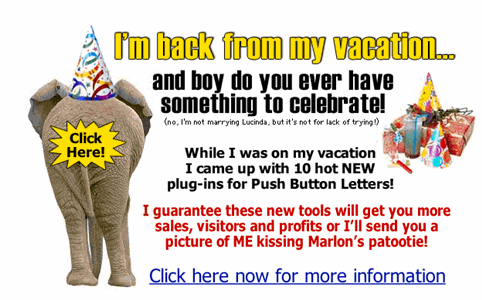 That happened to be sent as an html email but we could have just as easily used it at the top of a web page.
So step one is to come up with a potent hook or angle.
Step two will come tomorrow or the next day.